GET IMMEDIATE SOLUTION
Quit Sadness, Catch Happiness!
Real Estate Business Astrology
Have you ever been surprised by events you think happened accidentally in your real estate business? There might be some unexpected occurrences that have changed your business upside down. But, if those events bring some good profit and returns, it is fine; otherwise, it becomes bad news for someone in a flash. Who wants their fully-fledged business to go down at full tilt, especially when it is a real estate venture? Well, no one wants failure; everyone wishes some miracle to happen so that they could earn more and more peacefully and hurryingly. What if you get a chance to see your future with the help of real estate astrology? Have you ever thought- about how smoothly things will go when you get to know what upcoming events may affect your real estate or property business? We assume you will surely get everything you are looking for in your undertaking or new business for a prolonged time with the support of astrology.
Real estate business astrology is absolute, real, and genuine astrology meant to solve all your hustles associated with property, profit, and earnings. But, it is vital to take help from the best real estate astrologer in india, like Ankit Sharma Ji, who can assist you in the right direction to get the maximum profit. So, let's not waste much time and get straight into knowing a few unheard facts about this distinctive property business.
Which Planet is Responsible for Real Estate Business Success or Failure?
To answer this question, it is important to discern; first some lesser-known truths about the real estate business astrology, such as.
Do you know, astrologically, Moon is one of the significant planets that can lead a person or individual toward business? And Technically, Mars rules the real estate enterprise. Yes, you got it right!
The 4th as well as 10th houses, along with their lords and the planets Mars, Jupiter, & Saturn, are related to the real-estate business. Also, you must glance at your horoscope's 2nd, 7th, and 9th houses for the profitable outcomes in this undertaking (Ask Guruji in detail about these houses).
You might not be aware that Taurus- ruled by Venus, is the most connected planet with real estate; on the other hand, Mercury is linked with selling, so Mercury in Taurus would be the ideal match. Since Mercury's association with Vrishabh Rashi (Taurus Sun-Sign) can give real estate business where properties are held for the long term.
Nakshatras (lunar mansions) would also have their role. For example, nakshatras ruled by Mercury, that is, Ashlesha, Jyeshta, and Revati, could give property business in real estate. Likewise, Rohini, Uttara Bhadrapada, Uttara Phalguni, and Uttara Ashadha have believed the most optimistic Nakshatra for property selling/ buying or registration.
If speaking about which planet is responsible for real estate failure, then the planet Mercury, associated with makar Rashi (Capricon Zodiac Sign), could give real estate business short-term holdings. But, it never aids in entire failure. Still, many planets, Nakshatras, houses, and sun signs might affect your real estate business and venture. The best is to ask for information from the real estate business astrologer (Guruji) to have a better elucidation.
Swift And Effective Solution Through Healing & Meditation By Astrologer Ankit Sharma +91-98154-18307 info@AstrologerAnkitSharma.com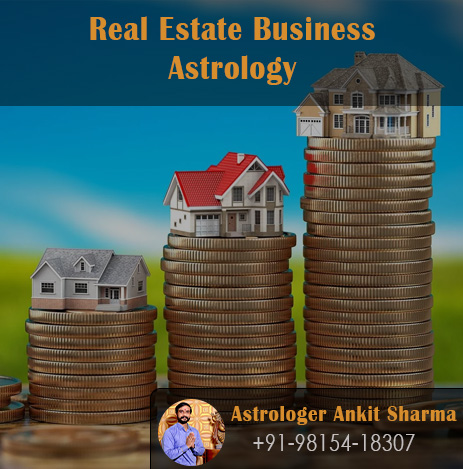 Who is the Best Real Estate Business Astrologer in India
It is momentous to understand that the above information is merely the tip of the iceberg. Association of the planets with arth trikona (all significant possessions.) would have its respective function. The nature of other planets, Sun, Moon, Nakshatras, and their conjunctions would also play their separate role. Further, argalas (houses) and their lords need to be noticed. Dashas (conditions) running and lordships of planets are also influential. Thus every aspect analyzed as a whole can only give the real picture. And this can only be done by Ankit Sharma Ji, undeniably, the best real estate astrologer in India.
Why Should I Consider Astrologer Ankit Sharma Ji for Real Estate or Property Business Problems Solution?
Be it any trade, venture, or occupation in the property business, we always need real estate astrology to understand what should be propitious and whatnot. For this, we need someone like Ankit Sharma Ji, who can tell- the favorable Muhurats and the Graha Pravesha timings, including day, time, date, year, & month for the opening of start-ups or any new brand inaugurations.
In contrast, it is everyone's thriving dream to own a house or property of their own. No one wishes to live in a rental house for a longer period of time. But, destiny and Yog are two very promising elements you cannot avoid or ignore. You must consider connecting an intellectual who knows everything about real estate business astrology.
Astrological whiz like Ankit Sharma Ji is a master who, in a blink of an eye, would tell you whether you will achieve real estate business success or failure. He will require a description of your birth details for clarification and thus let you know- how, when and where you should invest in property. Apart from that, if you are minting to begin a career or dreaming up to start a business in this domain, the only apt person with extremely impressive skills & expertise is our Guruji- who, beyond any doubt, is the best real estate astrologer in India for the same.