GET IMMEDIATE SOLUTION
Quit Sadness, Catch Happiness!
Food Business Astrology
There are just three essentials for a human to survive ---- Food, Shelter, and Clothing. Without these three necessities, no one can live, even for a day. Food is one of the most integral human needs, with the highest frequency. Each city serves millions of distinct food restaurants, outlets, cafes, eateries, etc., with hundreds of unique varieties. But, not every food outlet does sell good food; it is just sometimes luck that works. Might be possible that these food restaurants are already famous or have made an identity while providing the best services. If you are the one who is continually trying to open a food outlet but is unable to find a kick to take the first step, contact a food business astrologer. With around 20 years of full-fledged experience, a highly skilled specialist like Ankit Sharma Ji would tell you everything as he will-
Let you know what food cuisine type would be the best for your outlet,
Scrutinize the most suitable place to establish the restaurant,
Reveal the auspicious Shubh-Muhurats (including date, time, day, year, and month),
Give you the incredible food business success tips to rock and roll in this undertaking.
Help you which option would be the feasible one-the cloud kitchen, online food method, home deliveries, take away or the dine out system,
Tell the entire process to set up the outlet, etc.,
Remove all doshas (negative impacts) if those are bothering your food business success.
Astrology is a science that gives you a mere view of your future. It helps you predict your upcoming good and bad happening related to food business success and failure. So, do not just hesitate and speak to the best food business astrologer in India for all your doubts & confusion and make your food enterprise unusually good amongst numerous.
Swift And Effective Solution Through Healing & Meditation By Astrologer Ankit Sharma +91-98154-18307 info@AstrologerAnkitSharma.com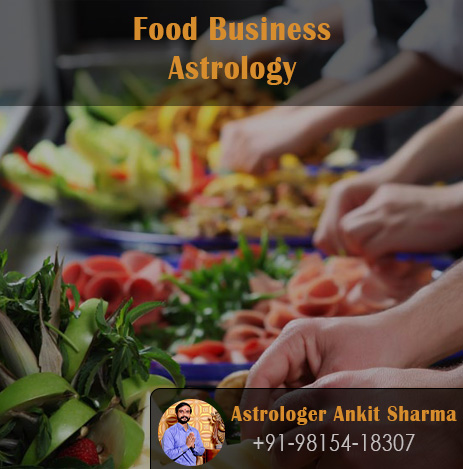 Which Planetary Combinations are Important for Food industries?
An extremely experienced and famous astrologer in india would merely understand the cruciality of planetary combinations in Astrology. The significance of the movements of these planets, the sun, and the Moon in the universe is one such attribute that probably can never be taken for granted. Ankit Sharma Ji discerns the value of the planetary positions and thus displays various facts as per the birth details and the stars' roles in one's horoscope. He deeply studies the given natal charts and profoundly discovers whether the people have the yoga (possibilities) of the food business success or not.
Now, moving to which planet plays a vital role in food enterprises, then according to the astrological estimations and calculations-
Mars is the responsible planet in one's horoscope, which depicts the chances of food business success. In Janam Kundli or birth chart, Mars provides the opportunities to begin a venture in the eatery domain and helps you find the most outstanding cooks and chefs for your respective restaurants.
Likewise, the Moon has the foremost role in making your food business famous in your locality and outside. So, if Moon and Mars sit in the same house, the deadly combination of both the heavenly bodies will take your business sky high. Even if both the celestial bodies have a gap of one house in between, it is also considered highly auspicious for the food business's success.
The distinguished food business astrologer Ankit Sharma Ji expresses that Jupiter and Venus are also important for the food business. Giant, magnific, and lavish sort of food is linked with Venus. However, Jupiter is correlated to simple and homely-cooked food business chains.
Coming to the houses, food business astrology analysis states- If the 6th house has a link with the 10th house, then there are also possibilities to be linked with the food industries. Whereas, when Conjunction, aspects, or lordships connect the 10th lord to the 2nd house, people are likely to get engrossed in the food Industries in a short span.
Who is the Best Food Business Astrologer in India?
The food business has excellent profit margins, so remember, before investing in this field, it is utterly crucial to communicate with the best food business astrologer in India- Ankit Sharma Ji, so that you can solely stop any hefty loss coming your way and generate immense profit out of this food eatery endeavor. You can also even learn business start-up tips because he follows a very remarkable strategy and provides you with the best food business astrology at full tilt. Be it the astrological remedies, gemstones, Vedic Mantras, a few tantras, or a divine set of ceremonies, Ankit Sharma Ji will ensure every requirement for your food business success.
If you are also seeking a kind of suggestion to improve, revamp, or refurbish your already established food outlet, or business, he will wholeheartedly aid you with the unrivaled food business astrology you are questing for.