GET IMMEDIATE SOLUTION
Quit Sadness, Catch Happiness!
Child Adoption Astrology
All various curiosities & confusions, constraints, and problems ever related with adopting a child, are exclusively elucidated and eliminated by this child adoption astrology of immense wisdom and importance, especially to people confronted with progeny problems. Again, in matters of child adoption, astrology is certainly a great and trustworthy mentor and solution-provider, apart from all other means and measures for solving such problems. Consequently, the astrology services for child adoption have been very famous and popular in the world since ancient times.
Our grand Indian astrologer Guru Ji Ankit Sharma of global fame and popularity has also been providing highly successful and generously-charged astrology services for these purposes for over two decades, not only in entire India, but also in numerous countries across the globe. Here, noteworthy also is the magnificent fact, that our guru ji serves all sectors of life through his ingenious, efficacious, and cost-effective astrology services. As far as the baby boy and baby girl adoption is concerned, our guru ji's full-range of impeccable and globally praised astrology services is described in brief in sections below.
The term "Adoption" stands for the entire procedure through which a child is made a member of the family of the adoptive parent(s), giving the child all various rights, responsibilities, and privileges which are inherently attached to the relationship. In India, the central nodal body for child adoption is the CARA (Central Adoption Resource Authority), and the child adoption processes are executed strictly as per the Adoption Regulations 2017 as well as the Juvenile Justice (Care and Protection of Children) Act, 2015.
SWIFT AND EFFECTIVE ASTROLOGY REMEDIES FOR CHILD ADOPTION PROBLEM SOLUTION THROUGH
Vedic Astrology, Healing, Meditation, And Powerful Mantra
CALL/ WHATSAPP : +91-98154-18307
| ASTROLOGER ANKIT SHARMA||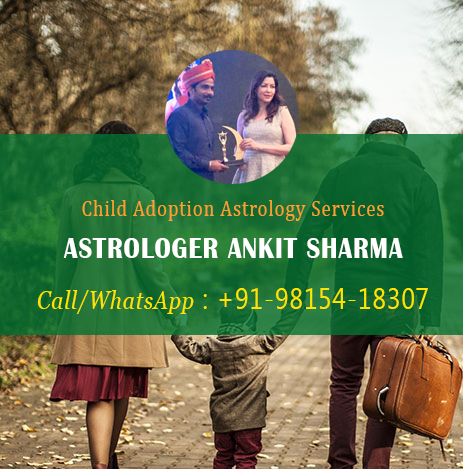 Planetary Combinations Responsible for Child Adoption
Actually, the causes and factors responsible for creating progeny problems are present and explainable in the birth charts of the parents. These astrological factors and planetary combinations keep the parents childless and thus, necessitate adoption of a child. In brief, and in general, these most relevant and responsible factors and combinations are the following
If the 5th house of the chart is occupied by any malefic planet, or is associated with or aspected by any malefic planets, and is lacking good graces of Jupiter.
If the lord of the 5th house (Saturn or Mercury) is positioned in the 12th house, according to the BrihatParashara Hora Shastra (BPHS), or is influenced harmfully by one or more malefic planets, along with remaining deprived of the good/gracious aspects of benefic or friendly planets.
Placement of a strong Saturn over the ascendant in D7 Chart (Saptamsa Chart).
Jupiter is weak or afflicted, or positioned in the 6th or 8th house, or has associations with malefic planets.
The 7th or/and 9th house(s) receiving ill influences of malefic planets, and holding only weak benevolent supporters.
The foregoing explicitly answers the question as to "which planet is responsible for child adoption?", to quench the curiosities of the common people.
Astrology Remedies for Child Adoption and How Astrologer Ankit Sharma Help?
Veteran astrologer Ankit Sharma, who is regarded as being one of the most successful and best astrologers in India and the world, can solve all issues and remove all hindrances to facilitate smooth and prosperous adoption of a child. Our well-learned and prestigious guru ji can offer the following services and supports to the prospective adoptive parent(s)
To prepare the adoptive parent(s) for nurturing a generous and responsible parenthood through analysis of their birth charts. This great facility is available both before and after a child adoption.
To guide people regarding adoption of a baby boy or baby girl, who can in future be most beneficial and loyal to them, after observing their charts.
To provide astrological solutions for smooth, harmonious, and lasting relationship between the adoptive parents and the adopted child.
To give marvelous information about the most auspicious child adoption muhurat for the adoptive people.
And, To discover various psychic and spiritual facts about the adopted child, in order to build the best possible understanding and relationship with the child.
FAQs
🌈 What indicators show Adoption in a Horoscope?
Poor and afflicted statuses of the 5th, 7th, 9th, 11th, and 2nd houses in a birth chart. Scarcity of the benefic influences of Jupiter on the 5th house or on its lord, will also be responsible for child adoption.
🌈 Why Adoption is a good idea?
For childless and lonely people, child adoption is the welcome next possibility, to build a wholesome and happy family.
🌈 Best Astrologer for Solving Child Adoption Related Confusions?
Grand astrologer Ankit Sharma Ji is certainly a most erudite and best astrologer in India and the world, for eliminating confusions and problems related with adoption of a child. Rather renowned and hugely popular are his astrology services in india and countries worldwide for all various life's problems and plights. Contact at +91-98154-18307 for astrology services.