GET IMMEDIATE SOLUTION
Quit Sadness, Catch Happiness!
Cloth, Clothing, Or Garments Business Astrology
Since the Pandemic hit everyone so hard, people sitting in different corners of the world witnessed many ups and downs in their cloth businesses and ventures. With COVID-19 negative impacts, millions of businessmen, manufacturers, entrepreneurs, brand holders, industrialists, and small shop owners faced numerous troubles that affected their endeavors at the core. Be it the stream of fashion, fabrics, brand, clothing, textiles, or any other garments business, the sales were low and down as compared to what they used to be before. The reason is- the lockdown, isolation, work from home, less interaction, social distancing, and complete shutdown. Due to these influences, people were not allowed to roam here and there, and 95% of offices, corporate centers, companies, and workplaces were closed, resulting in a 99% loss of the varied garment business worldwide.
Now, things have changed as 60% of offices are open, and individuals across the globe are back to their respective work. But, there is a saying- 'Yesterday is not ours to recover, but tomorrow is ours to win or lose.' Hence, if your full-fledged garment business has gone in vain during the epidemic, it's time to revamp, retrieve and recover it with great zeal and spirit. With the guidance and support of the best clothing business astrologer in india - Ankit Sharma Ji, you can restart your old venture again and ask him for tips and advice for gaining extra profit and fruitful outcomes with favorable Shubh Muhurat.
Astrological Combinations Suitable for Clothing or Garments Business - Which Planet is Responsible?
Do we know there is a planet in the universe that can help you have your own clothing brand or garments business? Astrology depicts- Impress the planet Venus and own a store of clothing, garments, and fashion that you have been eyeing on since ages. Confused? Let's be a little uncomplicated with the notions and clarify your doubts quickly.
Venus is the one influential planet that can make your dream come true. With no room for doubt, people please this powerful planet in various ways and make money through cloth branding. If Venus is positioned in the 6th, 7th, 10th, and 11th house in your natal chart, your clothing career will bloom like a flower; this guardian angel would do wonders. So, if your Venus is not so strong, you are advised to procure clothing or cloth business astrology for flourishing or starting your endeavor with great speed.
Swift And Effective Solution Through Healing & Meditation By Astrologer Ankit Sharma +91-98154-18307 info@AstrologerAnkitSharma.com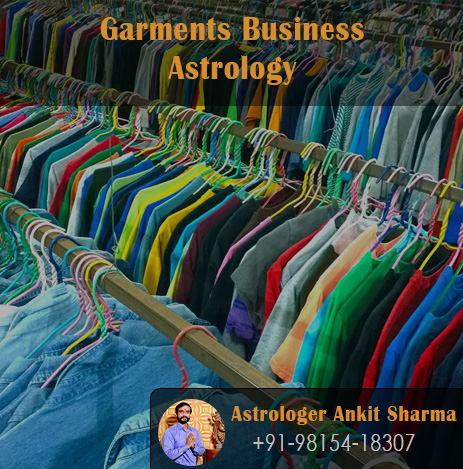 Who is the Best Clothing Business Astrologer in India
In addition, certain paramount astrological combinations suitable for this undertaking will be in-depth told by the veteran- Ankit Sharma Ji. He has been recognized numerous times for his out-of-the-ordinary astrological services as the best clothing business astrologer in India and outside it.
In every phase of your life, choosing a good pandit or the best clothing business astrologer in India who can guide you on the right path with his expertise is crucial. Life's complex and tough decisions can not be taken without some expert direction. You will certainly demand an ace who must possess adequate experience and enlighten you with some insightful notions without any ifs and buts.
You can request the best astrologer in india Pandit Ankit Sharma Ji for the consultation via call, text, or comment, and you can seek information regarding how to solve problems through clothing or cloth business astrology. His Vedic Astrology is so strong that by glimpsing over your birth details and horoscope, Guruji will tell you whether you will have clothing business success or failure in the upcoming period. Now, you might get the answer to this query- who is the best clothing business astrologer in India? In all courses, the veteran Ankit Sharma Ji.
Why Should I Consider Astrologer Ankit Sharma Ji for Clothing or Garments Business Problems Solution?
There are so many stupendous reasons to choose him for your clothing or cloth business astrology; as he provides-
Finest astrological remedies and potions.
Easy-to-do organic cures.
Fast and profitable astrological treatments.
Free sessions for business growth guidance.
Simple and powerful Mantras to chant.
Simplest rituals and holy rites for specific pujas to please certain deities.
Additional services include yoga, meditation, and mind therapies (if required).
Budget-friendly gemstones, yantra, and other sacred thingies for the business growth and overall profit.
So, for all your garment business setbacks and cloth store failure, you can take counsel from him. He will assuredly help you with the best solutions and leave no stone unturned by letting you know the solutions to such business and what you will achieve in your life- clothing business success or failure.
Conversely, if you are hatching to initiate a brand-new clothing store, fashion start-up, cloth showroom, or any specific garment business by being an entrepreneur or a beginner, it is a mandatory step to have clothing or cloth business astrology by him to expand business in the future.