GET IMMEDIATE SOLUTION
Quit Sadness, Catch Happiness!
Second Marriage Astrology
The second marriage astrology deals intensively and exclusively with all various issues related with the second marriage in life of any person. These issues cover the following:
The possibility of a second marriage;
Causes of the second marriage;
Info about the personality & nature of the future partner;
The likely overall status and stability of the second marriage;
Gemstones for bringing about the second marriage easily and smoothly;
Gemstones and other astrological measures for making the married life luscious and lasting;
And many other relevant and beneficial pieces of precious information.
Thus, the second marriage astrology is undoubtedly immensely beneficial to people thinking of committing a second marriage, after the death of the other married partner or getting divorce from him/her caused by any reasons. Legally, the second marriage is termed as Digamy or Deuterogamy; and the people who are desirous of it are called as digamous people; and the people who have committed second marriages are known as digamists. Hence, well-learned and prestigious astrologers can certainly be a great help or boon to digamous people, and also to the married lives of digamists of the world over.
Our august guru ji astrologer Ankit Sharma of India, who is at present, one of the most successful and highly trusted second marriage astrologer in the whole world, has inseparably been extending marvelous services also to the digamous persons and the digamists of the world over, for more than two decades, along with his services for nearly all life's problems. As far as all most popular types of marriages are concerned, his huge success and high demand worldwide have rendered him a fully trustworthy and rather famous marriage astrologer in india and numerous nations across the world. The section existing just above the FAQ section on this webpage, offers exclusive information about his second marriage astrology services, separately.
Swift And Effective Astrology Remedies For Second Marriage Problem Solution Through
Vedic Astrology, Healing, Meditation, And Powerful Mantra
CALL/ WHATSAPP : +91-98154-18307
| ASTROLOGER ANKIT SHARMA||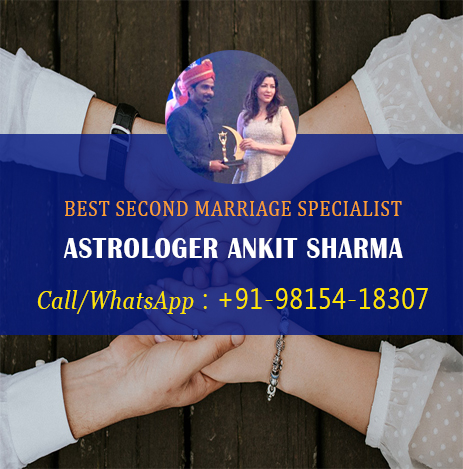 Which Planet or Star is Responsible for Second Marriage Success?
In general, the success of the second marriage depends on many astrological facts, factors, and planetary combinations. In this connection, the close and critical analysis and assessment of the overall statuses of the following houses are of paramount importance --- 7th, 2nd, 9th, 11th, 4th, 8th, 3rd, and 12th. Again, in addition to investigating into the overall strengths and statuses of Venus and Jupiter, the locations and the degrees of the malefic influences of planets like Mars, Rahu, Saturn, Sun, and Ketu need also to be analyzed comprehensively. Thus, the planets or stars responsible for second marriage success could be many and may even differ in different birth charts. However, good and favorable statuses of most of the above-mentioned houses of the chart, and benefic and beneficial influences of these planets, can undoubtedly make the second marriage harmonious and stable.
However, the following situations or combinations are considered highly auspicious for success and happiness of the second marriages
Amply good conditions in the 7th house, with benefic influences of many strong planets
Strong and affluent 2nd house and its lord in Navamsa
Complacent 8th house and its lord, and presence of the good graces of many strong planets over these.
Which Gemstone will Help to Solve Second Marriage Problems?
As the problems ever faced by the digamous people or the digamists could be different in different times, the curative gemstones therefore, would also be different for them. The decision of the most beneficial and favorable gemstone(s) for any digamous or digamist, will be dependent upon the prevailing conditions in his/her birth chart. After comprehensive and intensive analysis of the birth chart of such a person, our globally-renowned gemstone specialist astrologer guru ji can also suggest the most marvelous and cost-effective gemstone. In general, the commonly suitable gemstones to these people are the following --- Yellow Sapphire,Pearl, Ruby, Emerald, Rose Quartz, Garnet,Hessonite, Cat's Eye, and Moonstone.
Best Second Marriage Astrologer in India
In last two decades, ours this hugely-popular astrologer of global reach and reputation helped millions of digamous people and the married lives of numerous digamists, located all across India and the entire world. These people belonged to nearly all major ethnicities and religions. In India, his astrology services for the second marriages are enormously famous and popular, along with his superb and cost-effective services for all other life's problems and adversities. As far as the second marriages are concerned, he is commonly referred to as being a highly reliable and best second marriage astrologer in India and nations worldwide. To relieve and refurbish the dismal lives of digamous people and the digamists of the world over, our veteran and benevolent guru ji provides the following services:
Services to facilitate and quicken their respective second marriages
Services for eliminating any familial or social objections or barriers to second marriage
Services for predicting the time of second marriage as well as the overall personality and nature of the future partner
Services for suggesting perfect gemstone for second marriage as well as for happy married life
Services for nullifying the ill influences of any grave astrological afflictions in the birth charts of digamous people or digamists
Services for establishing and maintaining harmony and succulence in the married lives of digamists
Services for dissolving irrational or uncanny discomfort, stagnancy, or dull environs in the domesticity of secondly-married people
Services for resolving or terminating disputes with or intrusion of in-laws and relatives
Services for curing any stubborn bad habits or mental/sexual debilities or ailments of digamists (male or female)
Services for improving financial conditions and commercial growth of people who are desirous of digamy or have accomplished it
And, other necessary supports and benefits to such people
These surefire and safe services are provided mainly based on astrology and birth chart (of at least one marriage partner). However, in absence of any chart, solutions to the problems will be suggested based on palmistry, numerology, and psychic reading.
FAQs
💖 Which house indicates a second marriage?
The majority of the well-learned astrologers regard the 9th house, as the house of second marriage. However, the 11th house may also be considered to give decision regarding a second marriage.
💖 How do you know it's time for a second marriage?
An intelligent and close analysis of your birth chart can reveal both the possibility and probable time of a second marriage in your life.
💖 How to Contact Best Second Marriage Astrologer Ankit Sharma ji?
Any aggrieved digamous or digamist can readily contact and consult with our sophisticated and kind guru ji through telephonic/electronic means or through visiting in-person.