GET IMMEDIATE SOLUTION
Quit Sadness, Catch Happiness!
Second Marriage - What is Second Marriage?
The second marriage, as the very term evinces, is marrying for the second time, after the termination of the first marriage by death or divorce. Formally, this is also known as Digamy or Deuterogamy. With ever-increasing cases of divorces in India and countries worldwide, the popularity of second marriages has also been on the wax. Therefore, our globally-renowned Guru Ji of India, astrologer Ankit Sharma has also been extending excellent astrology services (in addition to his superb services for other life's problems) to such people seeking second marriages and located in countries across the globe, for over two decades, with huge success and high praises. This well-experienced and expert marriage astrologer also offers marvelous services for making the married life of such people (both males and females) harmonious and stable.
His broad-range of services for the people desirous of second marriages is stipulated separately in the section just above the FAQ Section. The following outstanding and elusive qualities of his second marriage astrology services have made him rather famous as a truly trustworthy and best second marriage astrologer in numerous countries worldwide
perfect and fast-acting solutions
freedom from possible side-effects
generous mid-range service charges
total security to individuals' privacy and dignity
full responsibility and social concerns
and wise and invaluable advice for betterment.
How Successful are Second Marriages?
In general, it is commonly found that the majority of second marriages ultimately end up in divorces, specifically in the first two years. According to the recent statistics published by the U.S. Census Bureau, the second marriages generally have a worse success rate than the first marriages, and hence, a higher divorce rate. Researches of the world over also show that over 75% of divorced people (both males and females) resort to second marriages, and also that the second marriages are more likely to confront many conjugal, familial, and financial problems.
Fortunately, effective astrology services are now easily available to the world, from reliable and prestigious astrologers like our guru ji, to make the married lives of digamists optimally succulent and promising. Besides being highly efficacious and fast-acting, these services of our sophisticated guru ji are also well-adorned with the finest qualities mentioned above.
Swift And Effective Astrology Remedies For The Second Marriage Problem Solution Through
Vedic Astrology, Healing, Meditation, And Powerful Mantra
CALL/ WHATSAPP : +91-98154-18307
| ASTROLOGER ANKIT SHARMA||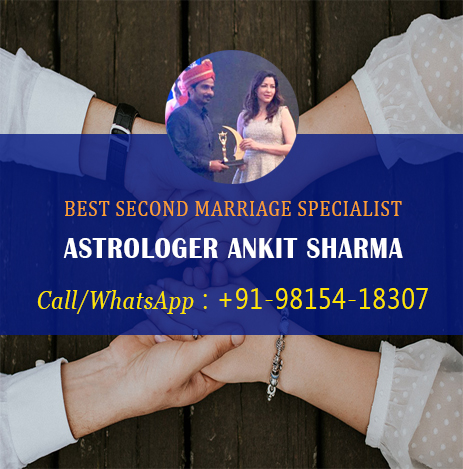 Second Marriage Astrology Remedies by Astrologer Ankit Sharma Ji
Commonly cited as being a highly competent and a best astrologer for second marriage problem solution in India and numerous other nations worldwide, our grand guru ji offers well-rounded support to digamous people (seeking second marriages) as well as to the married lives of these people. In this connection, the following are his most popular and highly sought-after services
Suggesting elegant astrological measures for making the second marriage easily and smoothly feasible
Removing familial or social hindrances to the second marriage
Helping digamous people in finding the best possible marriage partner, to lead a luscious and stable married life
Resolving or eliminating mutual disputes and stubborn incompatibilities between the married partners
Dissolving mystic unrest, discomfort, or clamors in the domesticity of digamists
Giving relief from unfair intrusion of in-laws, relatives, or children into the private and cozy matters of people having second marriage
Curing various ailments related with mental and sexual health & vitality
Helping digamists in abstaining from any inveterate bad habits
Averting cases of breach in mutual love and infidelities
And, resolving or completely removing other problems ever faced by digamists
Unfailing and safe astrological solution measures are suggested after comprehensive and close observation and analysis of all relevant facts and factors found in the given birth chart.
FAQs
💖 Is there a Second Marriage in my Life?
Your birth chart will give the final and authentic decision. The statuses of the houses of 7th, 2nd, 9th, 11th, 8th, 4th, 3rd, and 12th will reveal the possibility and future of second marriage. Locations, strengths, and influences of planets like Mars, Saturn, Sun, Rahu & Ketu, and of course, Venus and Jupiter will also elucidate the situation.
💖 Can I do Second Marriage without Divorce?
No. You cannot commit a second marriage without obtaining the decree of divorce from your extant married partner, in most of the countries of the world, barring some Muslim-predominant countries in Asia and Africa. In India, second marriage without the death of the other married partner or divorce taken from him/her, is a serious offence, punishable under the Sections 494 and 495 of IPC, and also as per the Sections 17 and 11 of the Hindu Marriage Act, 1955.
💖 Who is the Best Astrologer for Second Marriage Problem Solution after Divorce?
Commanding profound-learning and decades of success experience, astrologer Ankit Sharma of India is undoubtedly, a fully dependable and best astrologer for second marriage problems worldwide.