GET IMMEDIATE SOLUTION
Quit Sadness, Catch Happiness!
Disputes and Quarrels in Marital Life
Perhaps no any marital life or domesticity could be free of some problems from time to time. As the married life or domesticity is associated with children, relatives and other persons, besides the two spouses, it is often possible that the ever-changing circumstances, preferences, and situations would create some problems in the domesticity among them, at least from time to time. Here, in this responsibly drafted and very useful web-article dealt exclusively with are the disputes and quarrels in marital life ever occurring between the husband and wife, and the surefire and brisk astrology solutions to these all types of problems.
Here, it may also be just mentioned that our grand and world-famous astrologer pandit Ankit Sharma holds the magnificent credit for having solved diverse problems between numerous husbands and wives of the world over, during last two decades. The outstanding qualities of his astrological solutions for disputes and problems between the two spouses are the following:
High and Fast Efficacy
Just Reasonable and Generous Service Charges
No Harms to any married Partner Ever in Life
Full Confidentiality
Services delivered Only for Benevolent purposes with No Base Motives.
Astrological Solution of all Difficulties in Marital life
Perhaps no other science than astrology knows better about the various causes responsible for creating problems between two married partners from time to time. Broadly and mainly, the following anyone or more astrological elements and factors are usually responsible for creating various sorts of problems, disputes, and quarrels in between the husband and wife: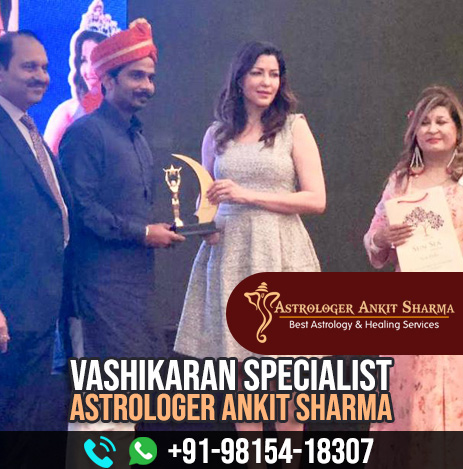 The Seventh house of the birth chart of any spouse is occupied by one or more Malevolent planets
Placement of the Lord of the Seventh house in any of the houses of 11th, 3rd, 5th, 9th, 6th, 8th, etc.
The Seventh house (in the natal chart of any partner) being under bad or destructive influences of anyone or more malefic planets
Poor status of Jupiter in the natal chart of the wife, or debilitated Venus in the birth horoscope of the husband
The statuses of various benevolent planets in the natal chart of any partner are low or poor
Presence of any or more astrology doshas like the Mangal Dosha or any pertinent Kaal Sarpa Dosha in the birth horoscope of any married partner
And, many other astrological reasons.
The astrological solution of all difficulties in marital life delivered by our guru ji has been truly marvelous to Indian and foreign couples. These solutions are provided by any of the following means ---- gemstones, astrology yantra like his globally admired 'Sampurna Vivah Sukh Yantra', vedic mantras, pacification of astrology dosha(s), and suggestions concerned with worship of certain deities and donation of specific things, especially to the poor and needy.
Troubled husbands or wives may readily call over:
+91-98154-18307
; or send a concise but illustrative mail to:
info@AstrologerAnkitSharma.com
; to utilize his marvelous astrological solutions for making one's married life peaceful and happy forever.
FAQs
🌈 Can I eliminate disputes in my marital life with vashikaran mantras?
Yes, you can end all disputes in married life with the assistance of marvelous vashikaran mantras provided by an experienced vashikaran specialist.
🌈 Why should I consult marriage vashikaran specialist Pt. Ankit Sharma Ji?
Revered marriage vashikaran specialist Pt. Ankit Sharma, is learned and highly appreciated personality. He has been engaged in solving marital issues like disputes or quarrels for more than 20 years. The mantras offered by him for marriage solution, have the following highlights:
Efficient
Reasonable
Genuine
Powerful
Safe
Swift
🌈 How can I contact Pt. Ankit Sharma Ji for ending quarrel and fights in marriage?
The distressed couples can contact love vashikaran specialist astrologer Pt. Ankit Sharma Ji, using the following contact details:
Direct Call/ WhatsApp (India): +91-98154-18307
Mail Id info@astrologerankitsharma.com
Skype Id Ankit.sharma3291
🌈 What is feedback of the existing clients for the services of Pt. Ankit Sharma Ji?
The existing clients highly appreciate and admire the marital problem solutions offered by Pt. Ankit Sharma Ji.