GET IMMEDIATE SOLUTION
Quit Sadness, Catch Happiness!
How to Keep a Relationship Strong and Happy?
Each of us has heard at least once that the key to a happy relationship is trust, true emotions and affections are the keys that make a couple hear each other and make compromises. However, in practice, how to keep your relationship strong with your boyfriend or husband?
Some wings take love to its new height of success like true feeling, deep understanding, and stoicism that can easily come over any of the life problems. Healthy relations between couples help to remain attached to each other for the rest of life, regardless of the circumstances. It seems like a long, happy relationship is a fantasy. This is not true! There are quite a few couples with years of experience. It is worth finding out their secrets and taking care of your relationship.
4 Effective ways To Remain Relations Healthy and Evergreen
Here, are the proven ways to keep your love life evergreen and free from any issues.
Convert Arguments to Healthy Conversation: Quarrels and misunderstandings arise in any couple. Don't see them as a threat to the relationship. Better to take them as an opportunity to learn something new about each other. An argument is not necessarily a scandal. It has long been known that the truth is born in a dispute.
Attention To Details : If we talk about how to keep your relationship strong with your girlfriend or wife? Then this is one of the most important aspects of healthy relationships. For happy families, it is important to develop close emotional bonds among each other; try to give respect to each other's desires and interests. There must not be a competition; show care and attention to each other's communications. Be ready to serve without any expectations in return.
Be Ready To accept Change : As time moves on; many things get to change. So, be ready to accept change in the relationship too. Don't be afraid to change. A good wife or good husband is one who always shows interest to be changed as per the partner's interest.
Build Trust and Give Freedom : Life is bound with struggles and problems. And trust is the key to solving those issues mutually without any destruction of the relationship. Trust and freedom are the two sides of the same coin that is the simple answer to how to keep your relationship strong with a girlfriend or wife? Strong and healthy relationships need trust and space; If you are ready to give space and freedom openly to your partner without any doubt then I must say you will be able to build a healthy love relationship in near future.
Swift And Effective Solution Through Healing & Meditation By Astrologer Ankit Sharma +91-98154-18307 info@AstrologerAnkitSharma.com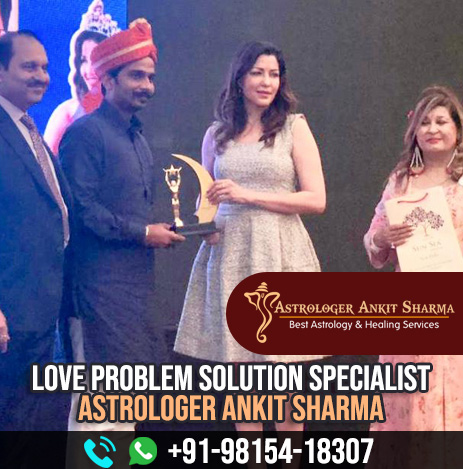 How Love Astrologer Ankit Sharma Ji Help to Solve Love and Relationship Problems
In today's era of modernization, freedom, and privacy have turned as one of the important segments of life. These have put family values on the backside. Relationships are getting weak that has become a major cause of concern. When a couple can't find any way to solve their love problems then they move to love astrologers to find solutions through love astrology.
Are you also looking for a relationship and love problem solution by astrology then I must say, let's search for an expert who knows the exact facts of love astrology; It is not an easy job; it involves Zodiac sign reading; palm reading, and sometimes need to follow vashikaran rituals that seems to be tedious but it's a permanent way to resolve all your love related issues.
Well, here we have a love astrology expert and love horoscope specialist who will assist you in solving all your love relationship problems or love marriage issues with permanent solutions. Get acquainted with Ankit Sharma, one of the renowned and gold medallist love astrologers of India who has vast experience in settling thorny love issues to provide a comfortable and happy married life.