GET IMMEDIATE SOLUTION
Quit Sadness, Catch Happiness!
Healthy Relationship Characteristics
Many times, relationships among couples look better and healthy from the outside but in reality, they are struggling to maintain their relations. Or sometimes, a person does not realize what he or she is regularly exposed to.
How to communicate with each other?
How to main privacy and freedom while in relation?
How to welcome arguments? How to serve your partner?
are some of the questions that highlight the qualities of a good relationship partner.
For healthy relationships, one needs to remain calm and tolerant and try to see positive in each other. There are some key phrases like Thank You, You are amazing, hug on getting excitement, You are Wonder, I am Sorry, and many more that really work to maintain healthy relationships. They purposefully build relationships based on respect and gratitude. Unhappy couples, on the contrary, are constantly looking for something to find fault within a partner, catch every mistake he or she makes.
Below are the Characteristics of Healthy Relationships.
Be Friend to Your Partner - Don't try to be a partner always keen to act as a good friend to your partner. Here, you need to listen to his or her views, and in case of any problem or issue, try to resolve it as an intellectual friend and don't try to ignore it like a rude fellow.  
Be Trust and Give Space - Do not try to dissolve in another soul. Trust and freedom are the two most important segments of healthy relationship characteristics. Give time to your relationship to get mature by offering enough space and trying to trust your partner during this time. 
Always Welcome Arguments - Arguments don't need to bring a relationship ending. Many times arguments give you chance to understand your partner in a better way. That further brings changes in relation and adds more love and comfort in love life.    
Share Your Success and Joyous Sessions - Time is bound to have ups and downs; so, for a happy couple, it is very important to share happy and sad times. The problem with the unhappy couple is that they ignore each other at the time of need. 
Idealization - A sign of a healthy relationship is the partners' objective view of each other. Rather than idealizing or devaluing relationships, it is important to collaborate and harness everyone's strengths for the good of the union. Partners accept each other without trying to improve.
Swift And Effective Solution Through Healing & Meditation By Astrologer Ankit Sharma +91-98154-18307 info@AstrologerAnkitSharma.com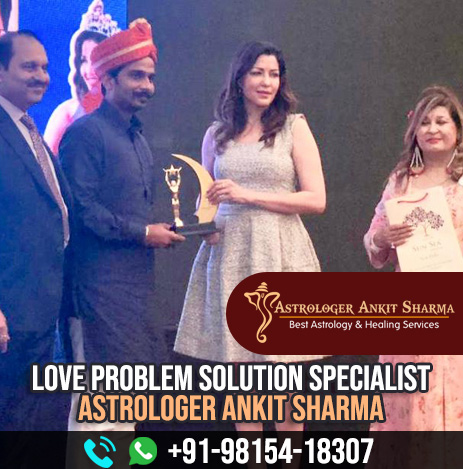 Why should you Consider Love Astrologer Ankit Sharma Ji for your Relationship Problem Solution?
In nowadays, many couples follow love astrology to resolve their love issues. Love astrology works on reading zodiac signs and palm reading to bring the best to the relationships. Astrology is one of the most sacred ways of protecting yourself from any form of evil eye or any form of love relationship problems. Since ancient times the astrology has been followed, to protect against any wrongful deeds done by other people out of any jealousy or personal reasons. But now as time moves on; the use of love astrology remedies for love and relationship problems, is also rising at the same speed.
Are you also searching for the best love astrologer in india then get connected with Ankit Sharma who is well versed with different methodologies of astrology concepts. However, you may find a long list of love astrologers but not every astrologer needs to be an expert in astrological facts. For an expert, it is very important to know every ritual of astrology, and how to follow these rituals is also necessary. Well, here, astrologer Ankit Sharma, India's No. 1 love astrologer is one of the certified and renowned astrologers who not only assist you in handling your love relationship problems but also suggest the permanent solution for a happy and prosperous life.