Shreemukh Jyotish Sansthan Award 2019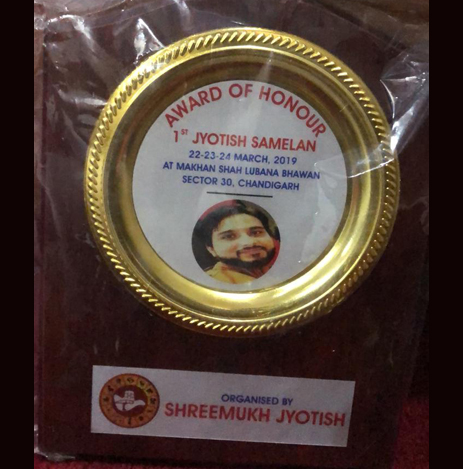 A great astrologer of India with worldwide prominence and ever-growing popularity is astrologer Ankit Sharma of Chandigarh, who has been achieving many high recognitions and winning many dignifying awards from time to time in his fast-paced and hugely successful career which spans over two decades. At present, the latest award won by our world-famous Indian astrologer guru ji is the Shreemukh Jyotish Sansthan Award 2019 in Chandigarh. This webpage offers exclusive information about this newest award won by him, the grounds on which this award is conferred on him, and his various categories of services to help the troubled, estranged, and frustrated people of the world over.
This highly prestigious shreemukh jyotish sansthan award 2019 was bestowed on him during a mega Jyotish Maha Sammelan which was held in Chandigarh at Makhan Shah Lubana Bhawan, Sector-30A from March 22 to 24, 2019. This astrological summit was regarded as being the biggest international astrology summit held in Chandigarh so far. This magnificent summit on astrology was ambitiously and benevolently organized by a widely renowned organization named as the Shreemukh Jyotish Sansthan. Numerous astrologers, numerologists, psychic readers, vashikaran specialists, Vaastu specialists, Feng-Shui experts, and so on, who belonged to places all across India, and a great many countries around the world, had attended this momentous and highly glamorous event on astrology. This high and dignifying award was given to our grand astrologer guru ji for gracious participation in this internationally significant event, and also for his services based on many occult and benevolent sciences (stipulated below separately) delivered to people of the world over for the ultimate aims of human welfare and world peace.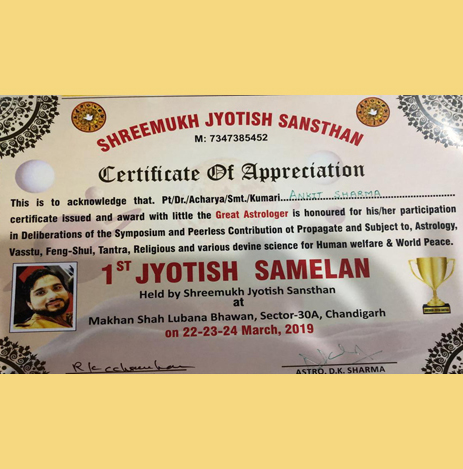 Now, the following paragraphs are going to offer highly informative and beneficial information about the diverse categories of services and solutions which are offered (for over two decades) by our guru ji to help and prosper the failed, distressed, and frustrated people of the world over. The niceties of his solutions/services are also stipulated below separately. In general, our guru ji astrologer ankit sharma is well-versed and worldwide famous in the following occult and benevolent sciences/therapies --- Vedic Astrology, Numerology, Palmistry, Vaastu Shastra, Psychic Reading, Positive Vashikaran, Feng-Shui, Natural Healing, and many more. With creative and harmless help of these sciences, our guru ji has been solving/eliminating the following major categories of disturbances and obstacles occurring ever in almost all broad fields of life:
Various internal and external problems to a love relationship between two love partners or to their love marriage or inter-caste marriage
Diverse problems and obstacles in business or profession (in any economic field) or in growth and security of this.
Problems or ignorance or confusions associated with one's education and health
Various discrepancies, disputes, or other matters/factors of discord between the husband and wife
Astrological, familial, social, or other obstructions to any type of marriage (arranged, love marriage, inter-caste marriage, or interreligious marriage). Unreasonable or mystic delays in marriages are also removable.
Revival of withered love, or reacquiring the lost love partner
Prevention of unwanted love-breakup, triangular love, extramarital affairs of the other spouse, or divorce sought by the other spouse.
Risks and uncertainties in new business ventures or financial investments.
Corrective vashikaran for nullifying the ill effects of black magic/spells on any person
And, various astrology-based services such as Kundli Making, Horoscope Predictions, Corporate Horoscopes and Forecasts, Predictions related with Tours & Travels, etc.
The astrology-based solutions to above-mentioned problems and obstacles are provided based on the Vedic birth chart of the meeting client. In absence of this, use of one or more occult sciences will be made for providing effective solutions. While, the services based on Positive Vashikaran are performed by our world-famous vashikaran specialist after getting a recent photograph and name of the impugned troubling person. It must be noted that all the solutions and services offered by our veteran and benevolent guru ji are highly effective, harmless (free of side effects or ill influences), cost-effective, and give lifelong solution to the specified problems. Our ingenious guru ji also has many miraculous and low-cost talismans or yantras, to offer extra benefits/advantages to the interested clients. These yantras too are of global popularity and admiration.
Distressed, isolated, or frustrated people located in India or abroad, may readily and freely contact our guru ji through any of the following means ---- Mobile/WhatsApp: +91-98154-18307; or Email ID: info@AstrologerAnkitSharma.Com; for finding fastest and finest solutions to the specified problems in any life's sphere.