National Glory Award - "Best Astrologer in India"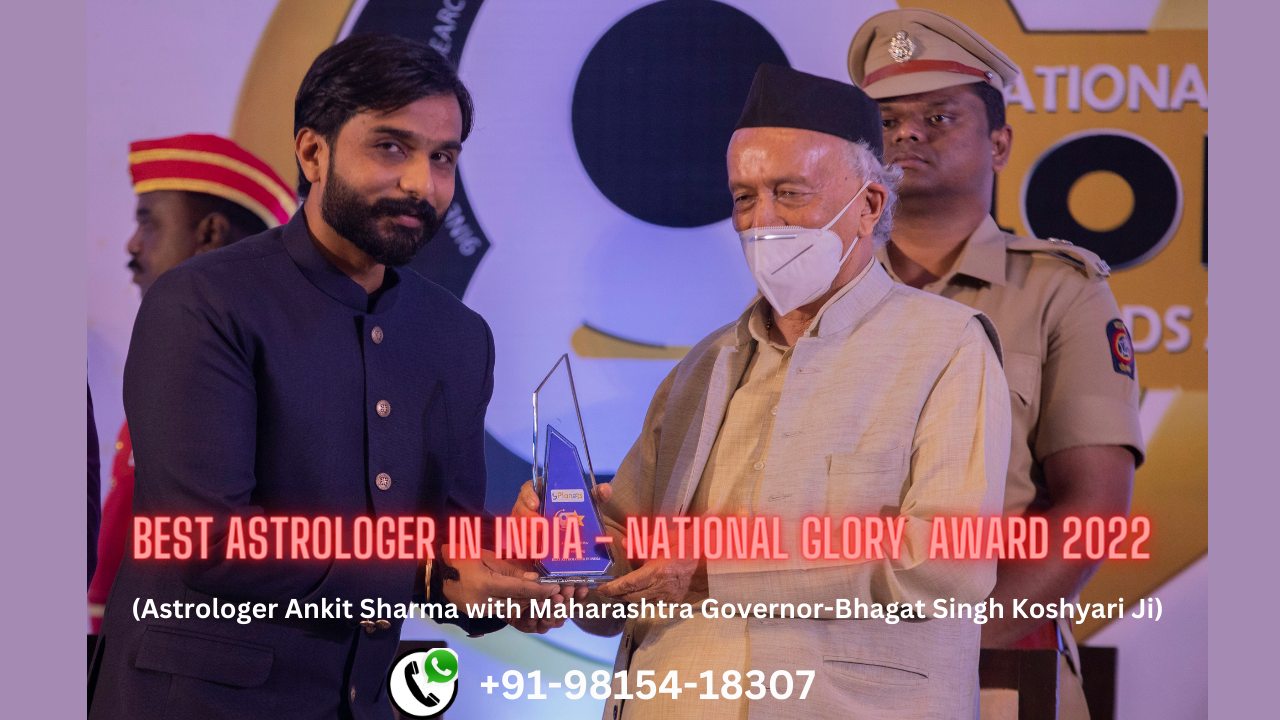 Being the Best astrologer in India and the entire world, he routinely receives praise and accolades for offering the most well-known astrology services in the nation. His global crew, which is situated in India, helps him finish his work in various places around the globe. A spectacular event is being held at the Sahara Hotel, in Mumbai and he also recently received an official invitation to attend the prominent -National Glory Award ceremonies. A unique national ceremony honoring certain great people for their outstanding efforts in their respective businesses was held on October, 1st, 2022. You might be confused, who is he? He is none other than a renowned yet intellectual astrologer- Ankit Sharma Ji who has been lately invited to collect a class reward for the best astrologer in India from the very famous- Governor of Maharastra- Bhagat Singh Koshyari and the award was tagged as "National Glory Award".
The "National Glory Award 2022"
The National Glory Award 2022 was to be given out at this event to everyone, including VVIPs, businesspeople, athletes, entrepreneurs, movie actors, astrologers, players, and entertainers. In India, Ankit Sharma Ji is the most skilled astrologer for rendering the finest and the most satisfactory astrology services throughout the nation. All of his predictions have so far come true. He carries on the family tradition of astrology as a fourth-generation astrologer. Recently, Guru Ji attended a magnificent event at the Sahara Hotel, in Mumbai for a special award ceremony where he spoke about his great astrological path, his strengths, the impact his prophecies have had on people's lives, and other Vedic and astrology subjects.
By the grace of God, Ankit Sharma Ji was greeted with a significant astrological honor. The title of the honor was "Best astrologer in India" for his famous astrology solutions. He was speechless when he heard about this incredible privilege, and he will always be grateful. In order to be at the top, he has indeed worked tremendously hard with unwavering devotion, passion, and honesty. He also put a lot of effort into his astrology career to get to this position and built a strong reputation quickly.
He is unquestionably one of the respected, pragmatic, and knowledgeable authorities in a number of astrological disciplines at the moment. He is successfully addressing a wide range of issues, including those pertaining to marriage, career, relationships, employment difficulties, spouse conflicts, business concerns, financial crises, progeny, Vastu-Shastra, gemstones, Kundli-matching, horoscope checking, enterprises/shops/showrooms, and other obstacles for personal ventures, etc., with premium and unmatched astrological concepts.
He is also adept at handling common emotional, professional, personal, financial, and physical issues by setting up one-on-one meetings and consultations with people who genuinely want advice and assistance in their life and relationship. To understand and address the issues and challenges encountered by civilians, he routinely plans visits overseas in response to important requests and demands. He never ceases searching for unrivaled astrological answers to assist his loyal followers and clients with their challenging problems.
Guruji began his adventure when he was a small child and started following in his father's footsteps. He is now well-known both within India and outside for his speedy, compelling, and cost-effective astrological solutions. Years ago, his father was an experienced and well-known astrologer in his time. He is deeply grateful to all of his loyal supporters and happy to offer the Famous Astrology services to anyone who needs them. He is happy that he is now a member of the "National Glory Award 2022 and particularly received the coveted title of the best astrologer.
He is heartedly thankful and shows respect to the outstanding Chief Guests-Respected Bhagat Singh Koshyari for his cordial, welcoming, and supportive behavior. This unparalleled acclaim was something he had never anticipated. One of Guru Ji's many favorite hobbies and still a fantasy for many people were receiving a token of appreciation from such a distinguished personality.
This public gathering in Mumbai was also commended by a large number of recognized, illustrious, and well-known celebrities, including Charu Asopa Sen, Pooja Gaur, Aparna Dixit, Abhishek Bajaj, etc Whether it was astrology, education, business, art, fashion, literature, health, music, or social services, the very best was enthusiastically heralded.