Kismat Connection Award of Excellence
One of the most successful, globally renowned, and reliable astrologers of India, Asia, and the world, Astrologer Ankit Sharma now won the "Kismat Connection Award of Excellence". This highly lustrous and distinguishing award was bestowed on him in Chandigarh (India) jointly by the Divine Strength and SMC BIZZ, during a magnificent event named as 'Kismat Connection' held on 11th April 2015 at Bal Bhawan of Sector-23.
This dignifying and elevating award has been given to him as high honor to his life-building and miraculous astrology services, which poured happiness, peace, and zing to suffering and distressed lives of people worldwide. Here, it may also be just added that, Chandigarh is the city where the head office of his globally famous service firm is well-established.
Not only in the field of astrology, Ankit Sharma is a globally eminent and leading personality also in the fields of :
❶Love psychic reading,
❷Hypnotism,
❸Reiki,
❹Spiritual therapies,
❺Numerology,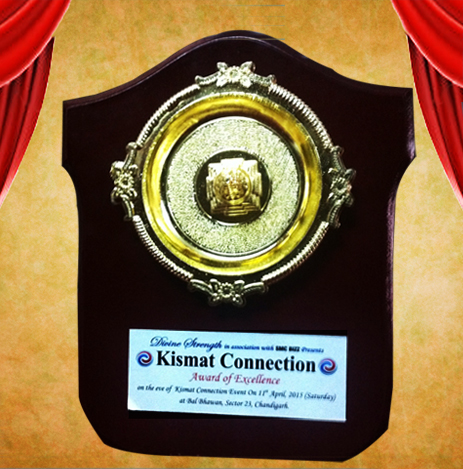 ❻Removal of evil black magic,
❼Vastu Shasta,
❽Voodoo,
❾Nadi astrology, etc.
Almost all domains of life have been served by his ingenious and impeccable solutions and services based on these all esoteric sciences, including family and domesticity, businesses and professions, marriages (love marriages, arranged marriages, and inter-caste marriages), financial fluctuations and instability, relationships with kith and kin, love and romance, education and career selection, health and vitality, progeny, career growth, business ventures, etc.