Jyotish Vibhushan Award 2017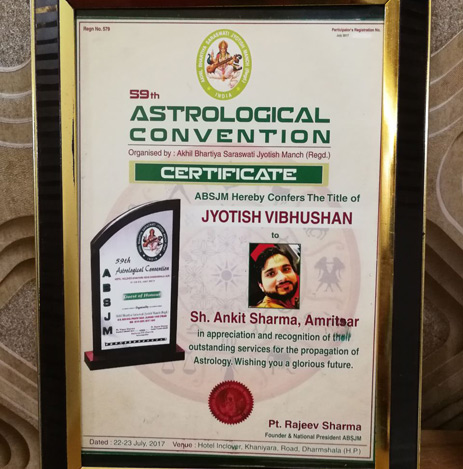 This magnificent award was conferred on world-famous astrologer Ankit Sharma of India (well-based and hugely renowned in Chandigarh, Punjab) during the glamorous event of '59th Astrological Convention', which was held in Dharamshala from 21st July to 23rd July 2017. The event-cum-award ceremony was organized at hotel Inclover (Khaniyara Road, Dharamshala) by a reputed social-service organization named as the Akhil Bhartiya Saraswati Jyotish Manch (ABSJM), the head office of which is located in Jalandhar (Punjab). This "jyotishvibhushan award 2017" was given to astrologer ankitsharmain recognition and appreciation of his benevolent astrology services to the distressed and disappointed people of India and abroad, and also for his tireless endeavors for propagating the light and benefits of Vedic Astrology in places all across India and countries worldwide.
Prior to receiving this highly prestigious award in the field of vedic astrology, grand and globally acclaimed astrologer Ankit Sharma had won many highly illustrious and dignifying awards in the fields of astrology, palmistry, and positive vashikaran. Apart from these disciplines, he has also been serving the world in the fields of numerology, psychic reading, vastu shastra, meditation & reiki and other natural healing services, nadi astrology, and elimination of the black magic of evil persons or spirits. The bulk of his beneficiaries and clients live in the continents of Asia, Europe, North America, and Australia. The paragraphs below, offer very informative and beneficial information about his astrology services exclusively.
In the field of Vedic Astrology, our guru ji astrologer Ankit Sharma is regarded as being one of the best, highly reliable, and the leading astrologers in India, Asia, and countries worldwide. During last two decades, through his highly refined, ingenious, and impeccable astrological solutions, he helped and soothed myriads of disappointed and distressed people of the world over.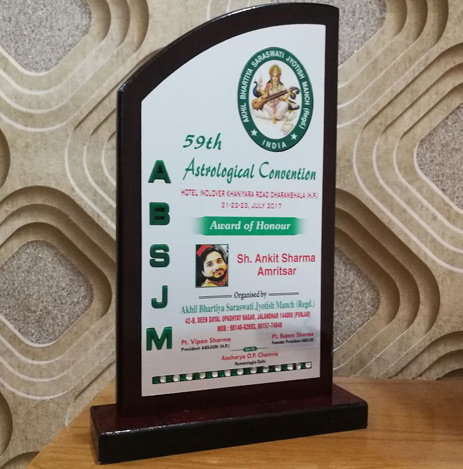 Though he is capable of solving problems in nearly all spheres of life, the most served and success-giving spheres of life to him have been the following:
Love and Romantic Relationships
Success and Growth of Businesses and Professions
Marriages (Arranged Marriages, Love Marriages, and Inter-Caste Marriages)
Relationship between Husband and Wife, and the Overall Marital Life
Career Growth of Celebrities relating to various fields.
Love Breakups and Extramarital Affairs
Relationships with Family Members, Relatives, Friends, and other people of the society
Financial Scarcity, Flexibility, and Uncertainty
Foreign Tours and Travels
And, many other spheres of life.
Astrology solutions are generated after extensive and close observation of the facts present in the birth chart of the client, and also in the birth chart of the person(s) impugned, for getting the best possible solution. Astrology solutions of astrologer Ankit Sharma have been globally-admired owing to the following qualities ---- sure and fast efficacy, reasonable and easily affordable service charges, no side or ill effects, permanent solution to the impugned problem, and solution is boosted by decades of service expertise. Also, the solution measures suggested by him are many to suit different individuals and their respective preference.
To avail superlative, infallible, and globally famous astrology solutions of him for problems relating to any of the above-mentioned spheres of life, the concerned people may readily call over: +91-98154-18307; or send their relevant queries or problems to: info@AstrologerAnkitSharma.com .