Jyotish Vachaspati Award 2019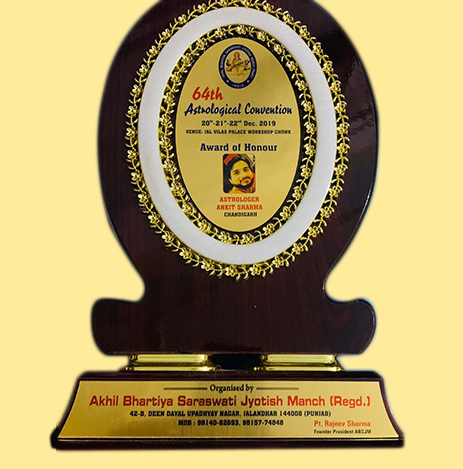 Highly recognized and reputed astrologer, Pt. Ankit Sharma, has been presented with the elegant memento and certificate, for the entitlement as JyotishVachaspati. This significant and prestigious title was awarded by the respected Akhil Bhartiya Sarawati Jyotish Manch, for acknowledging the notable and meritorious contribution of our cherished guruji in the field of astrology. Pt. Ankit Sharma has been providing promising and effectual services to suffering and woeful clients across India and also in numerous foreign countries.
This grand event was conducted on the occasion of the 65th Jyotish Convention and it was conducted at the beautiful and sophisticated location of Jal Vilas Palace, situated at Workshop Chowk, Jalandhar City. This lavish event was hosted to honour the work of the Jyotish experts from all over the country and among them, our guruji was profusely thanked and appreciated for his benevolent services in astrology for more than two decades.
Services of Guruji
Our respected and highly diligent love astrologer has done a deep study in the field of astrology, due to which he has developed expertise in his work. Over the past numerous years, he has been the source of relief and joy for numerous clients globally. The services offered by him are completely safe and show their marvellous effect in a very short period. Some of his highly famed services include: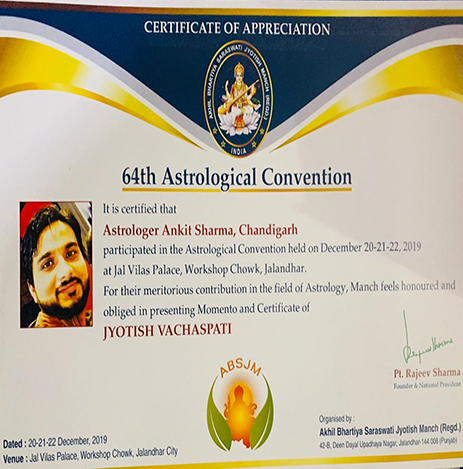 He has been expertly solving problems about love and relationship. Any sort of miscommunication, argument, loss of trust, loss of attraction, jealousy, lack of communication, misplaced anger and many other situations can be deftly handled by the diligent services of our guruji.
The problem, complexities, and hardships in marriage, love marriage, intercaste marriage, etc. can be efficiently solved by our esteemed guruji. Using his powerful astrological solutions, the clients can convince the parents for their blessings for the love marriage.
The services of our top Indian astrologer have been very helpful in restoring love and harmony between husband and wife. The services helped reunite severed couples into a bond of eternal love.
The services are also extended to family affairs, including problems with family members, children out of control, etc. they can be easily resolved with the assistance of the astrology solutions.
These astrological solutions based on the birth chart of the clients are useful in taking important decisions for business, finance and crucial work.
People suffering from different health situations, including long-time sufferings to extremely painful situations, they have also benefitted from the services of the astrologer.
People who are struggling for employment or establishing themselves in various sectors like media, television, sports, government jobs, etc. they are also immensely benefitted by the astrological remedies.
The people who have not found the love of their life and feel depressed and lonely, they can find their perfect life partner with his solutions.
How to contact Astrologer Ankit Sharma Ji?
The highly voracious and dashing astrologer, Pt. Ankit Sharma, who is highly experienced and learned personality, can be contacted by various online and offline means. They include WhatsApp, Facebook, skype, email, Viber, etc. The contact details are mentioned below for the clients in search of genuine and swift solutions:
Direct Call/ WhatsApp/ Viber: +91-98154-18307
Email: info[at]AstrologerAnkitSharma[dot][com]
Skype : Ankit.sharma3291