Jyotish Prangan Certificate & Award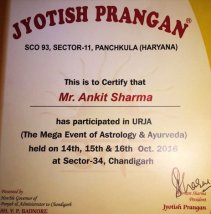 In October 2016, veteran and globally admired astrologer Ankit Sharma achieved another high and dignifying award named as the "Jyotish Prangan Award" in Chandigarh, where the head office of his globally prominent service-firm is well-based. This prestigious award was conferred on him during an international event named as 'URJA - The Mega Event of Astrology & Ayurveda', held from 14th - 16th October 2016 in Chandigarh at Dussehra Ground of Sector-34. Over 100 eminent astrologers, Vastu specialists, Ayurveda specialists, and Tarot Card readers belonging to India and abroad had participated in this highly enlightening and laudable event.
"Urja" was organized jointly by Jyotish Prangan and Planet Ayurveda. Jyotish Prangan is a Panchkula-based organization working for the regeneration and betterment of Astrology. The Jyotish Prangan Certificate and Award were presented to astrologer Ankit Sharma by the chief guest of the event, Shri V.P. Singh Badnore Hon'ble Governor of Punjab & Administrator to Chandigarh.
Today, astrologer Ankit Sharma is a well-known, hugely popular, and highly reliable name in the field of astrology and many other similar esoteric fields (listed below) in entire India and also in numerous countries all across the world. The majority of foreign locations benefited by him are situated in Asia, Europe, North America, and Australia. During over two decades, myriads of troubled people and companies have been helped and prospered by him in these countries. Broadly, the following fields have been well-served by him:
Astrology
Psychic Reading
Nadi Astrology
Vastu Shastra
Numerology
Meditation, Reiki, and Natural Healing
Positive Vashikaran
Removal of Evil Black Magic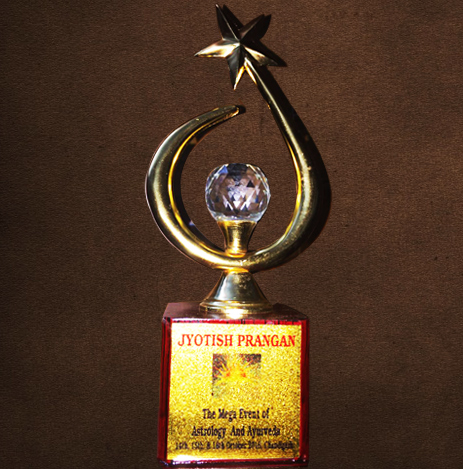 Through his highly effective, completely safe, and generously-charged services based on astrology and other sciences mentioned above, the following problems, disputes, obstacles, and adversities can surely be sorted out forever:
Hindrances to flourishing Love Affairs and Stability/Restoration of Love Relationship
Problems and obstructions to Marriages (Love Marriages, Arranged Marriages, and Inter-Caste Marriages)
Business problems
Financial slackness, instability, or uncertainties
All problems between Husband and Wife, and all Domestic issues
Health problems and Diseases
Career Struggles
Political problems and uncertainties
Perils pertaining to New Business Ventures and Investments
And, many other problems related with other spheres of life
Troubled people of the world over, may readily call over: +91-98154-18307; or send their curiosities or problems to: info@AstrologerAnkitSharma.com; to get the best possible and cheapest astrological and other solutions.