Jyotish Maha Sagar Award 2019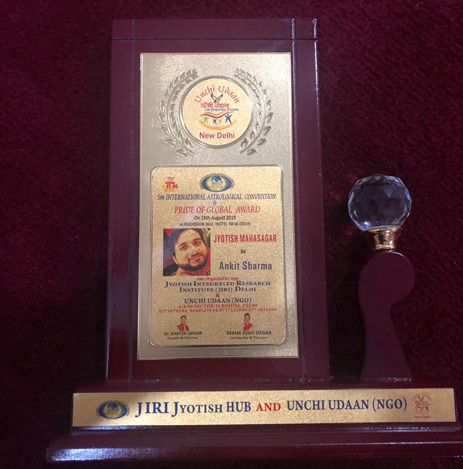 This internationally magnificent award was won by astrologer Ankit Sharma on 18th August 2019 in New Delhi, during the mega '5th International Conference on Indian Vedic Culture Astrology'. This "jyotish maha sagar award 2019" honors his substantial and notable contribution towards the Vedic Astrology and Allied Sciences, delivered by him in last two decades. A best indian astrologer of global fame and faith, astrologer ankitsharma has been extending his highly efficacious and marvelous astrology-based services to every part of India and numerous countries across the globe for over two hugely successful and dignifying decades.
This award ceremony which was titled at large as the '5th International Astrological Convention & Pride of Global Award 2019', was organized at Hotel Radisson Blu, Paschim Vihar, New Delhi, jointly by prestigious organizations of the Jyotish Integrated Research Institute (JIRI), Delhi, and the Unchi Udaan (NGO), Delhi. Here, it may also be just mentioned that our guru ji has been achieving a variety of awards and accolades (stipulated on this website) from time to time during his steadily thriving career in Vedic astrology and allied sciences.
The Most Popular Astrology Services by Ankit Sharma
Though almost all astrological solutions suggested by our ingenious and benevolent guru ji have been very successful and popular in numerous countries of Asia, Europe, North America, and in Australia for over two decades, the following are the most popular and greatly sought-after astrology services offered expertly and responsibly by him at just reasonable and easily affordable service-charges :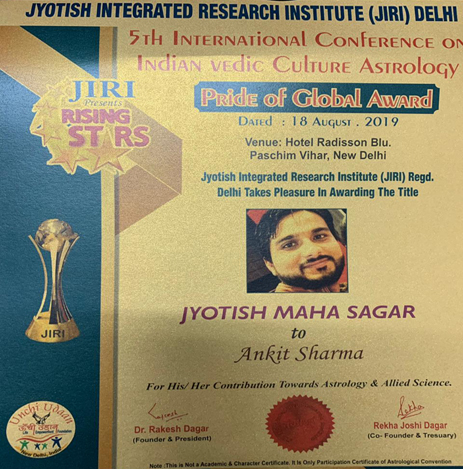 Solutions and services for resolving or removing all various spoiling issues, disputes, conflicts, and obstacles in the realms of love affairs and love relationship between two good and innocent love partners. These problems may be mutual or internal as well as external to the love life.
Various objections and obstructions to any type of marriage, be it the love marriage, arranged marriage, inter-caste marriage, interreligious marriage, etc. These disturbances or barriers may relate to the personal, conjugal, familial, social, financial, educational/occupational, and other matters.
All various hassles, disputes, and roadblocks occurring ever in any business or profession. Businesses and professions/services in all various economic fields are covered. These problems and obstacles include the following --- recession, financial losses or blockages, commercial disputes, rivalry, competitive disadvantages, dismal futurein business or profession, business forecasts, etc.
All diverse categories of conflicts, clashes, discord, and separative issues existing ever in between the husband and wife. These also include unwanted separation or divorce, or the extramarital affairs of any spouse.
Various other problems, disputes, and tumultuous events occurring ever in the family and domesticity. The hurting and worsening relationships with kith and kin are also resolved or eliminated.
Diverse problematic or ruinous issues related with money and finances at home or in business or profession.
All tasks related with horoscopes or forecasts on various fields of life, including Kundali-making (birth chart making) and horoscope matching for marriage.
And, astrological solutions and suggestions to problems in health, education, employment, and career. Futility or fruitfulness of any desired tours and travels are also analyzed in advance.
Surefire, safe, and sovereign solutions to all above-mentioned problems are provided based on the birth chart of the person who is meeting or consulting our guru ji. The birth chart of any other concerned person will also be very useful for generating the utmost effective astrological solutions. In the case of non-availability of the birth chart of any person, resorted to will be numerology, palmistry, or psychic reading. Lastly, our well-learned and innovative astrologer guru ji has also invented many yantras, in order to provide additional or surplus benefits to the clients.
How to Contact Astrologer Ankit Sharma :
Any troubled or frustrated person located in India or any country abroad, may readily and freely avail globally-admired astrology services of our guru ji for solving or eliminating any of all above-specified problems or obstacles. Any of the following telephonic or electronic means may be utilized for consultation with our guru ji.
Mobile/WhatsApp: +91-98154-18307;
or Email ID: info@AstrologerAnkitSharma.Com.