Astrology Red Book And Vaastu Convention Award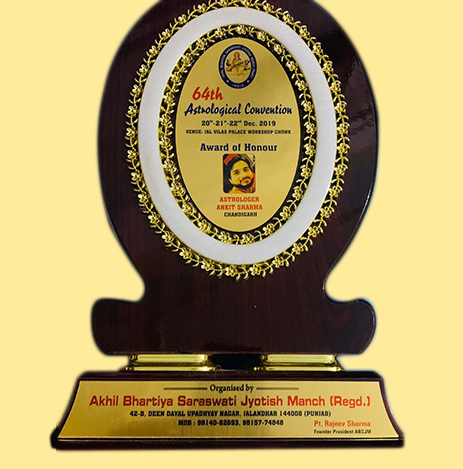 The revered and widely lauded astrologer Pt. Ankit Sharma Ji has been yet against offered the prestigious award of "Certificate of Honour" for his matchless healing and gratifying services in the field of Vedic astrology, red book and vaastu services. It was presented in the 3rd international astrology red book and vaastu convention, which was held on the 10th October, 2020. This prestigious and exception International Royal Jyotishi Sammelan 2020 recognition certificate appreciates the decades of efforts of guruji for helping people overcome problems in all aspects of life. Pt. Ankit Sharma is a highly skilled and ornate astrologer who has been offering highly resourceful and relieving astrology based solutions for more than 20 years. Owing to the magnificent and relieving results, his services are highly demanded across the nations including USA, UK, Asia, etc.
The prestigious award ceremony 3rd international astrology red book and vaastu convention was held at Hotel RAGENTA CENTRAL, in the beautiful Amritsar city in Punjab. The award was presented by highly respected and benevolent Prabhjit Singh (Sartaj), who is the founder of the International Royal Jyotishi Sammelan 2020. Apart from the mentioned appreciation, our experienced and skilled guruji has been recipient to a wide gamut of awards and rewards on national as well as international platforms.
The Most Popular Astrology Services by Ankit Sharma
The astrological solutions of Pt. Ankit Sharma are highly appreciated for providing relief in the lives of people all over the world. Using his powerful and efficient services, the suffering people are now joyful and prospering. Some of the highlighted services of guruji are:
Resolving issues love affairs and love relationship between two true love partners. These problems may be mutual or internal as well as external, but he solves the problems efficiently to make the love life of people blissful.
He assist in overcoming all obstacles in marriages, be it the love marriage, arranged marriage, inter-caste marriage, interreligious marriage, etc. The problems or barriers may be personal, conjugal, familial, social, financial, educational/occupational, and other matters.
He easily and permanently resolves hassles, disputes, and roadblocks occurring in any business or profession. These problems and obstacles can be in the form of recession, financial losses or blockages, commercial disputes, rivalry, competitive disadvantages, dismal future in business or profession, business forecasts, etc.
Overcoming conflicts, clashes, discord, and separation issues in between the husband and wife. He even resolves issues of separation or divorce, or the extramarital affairs of any spouse.
He very deftly handles and resolves family and domestic issues. The hurting and worsening relationships with kith and kin become cordial again with his solutions.
He professionally resolves problems related with money and finances at home, in business or in profession.
He uses his expertise to provide expert horoscopes reading or forecasts on various fields of life, including Kundali-making (birth chart making) and horoscope matching for marriages.
He also provides solution for the scenarios like problems in health, education, employment, and career. He also suggests the futility or fruitfulness of any desired tours and travels in advance.
How to Contact Astrologer Ankit Sharma
Any troubled or frustrated person located in India or any country abroad, can easily avail the mystical and highly effectual astrology services of our guru ji for solving or eliminating any problems or obstacles in lie. You may use the following details for consultation with our guru ji.
Direct Call : +91-98154-18307
WhatsApp : +91-98154-18307
Skype: Ankit.sharma3291
Email: info(at)AstrologerAnkitSharma(dot)(com)