Jyotish Prangan's Awards 2018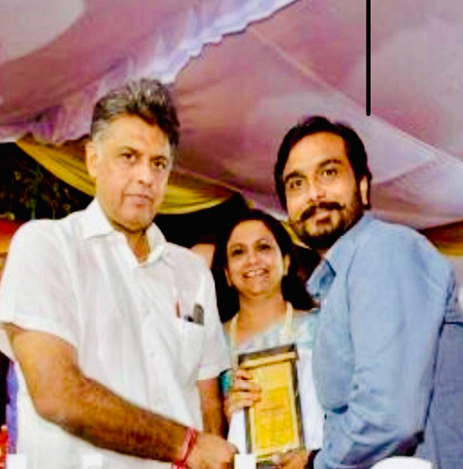 A great Indian astrologer Ankit Sharma, who is today rather eminent in numerous nations worldwide, won two prestigious and dignifying awards most recently in Chandigarh, where the head-office of his globally-famous service organization is well-based. This webpage presents concise information about these latest awards 2018 won by him, along with a brief description about his globally-praised astrology services for tackling almost all problematic issues and adversities of life. He has been successfully and remarkably serving the troubled, distressed, and frustrated people of the world over for over two decades.
These awards were given to him in recognition and appreciation of his marvelous and economical services related with Vedic astrology and many other occult sciences, during the momentous "Astrology and Ayurveda Event, URJA-2018", organized by a prestigious organization Jyotish Prangan. These awards given along with the Certificate of Appreciation are the following --- "Jyotish Prangan's Award of Honour 2018" and the "Jyotish Prangan's Award of Excellence 2018". This enlightening and motivational event was held at the Exhibition Ground, Sector-34, Chandigarh, from 5th-7th October 2018. The 'jyotish prangan's award of excellence 2018' was presented to him by Hon'ble S. Rana Gurmeet Singh Sodhi, the Minister of Sports & Youth Affairs, Govt. of Punjab. While the other award, the 'jyotish prangan's award of honour 2018' was given to him by Hon'ble Mr. Manish Tewari, Former Union Minister for Information & Broadcasting, and National Spokesperson Congress. Jyotish Prangan is an organization of nationwide and international prominence, the head-office of which is well-established in Panchkula (Haryana), and it works for the regeneration and betterment of astrology, Ayurveda, and other occult sciences. From time to time, this prestigious organization has been organizing such events to benefit the regional, national, and international people and celebrities.
And, astrologer Ankit Sharma is today one of the best and leading astrologers in India, and also in numerous countries of Asia, Europe, North America, and in Australia. Apart from globally-admired astrology services, our guru ji also provides solutions related with Numerology, Palmistry, Psychic Reading, Positive & Safe Vashikaran, Natural Healing Therapies, etc. As far as his astrological solutions are concerned, almost all disputes, obstacles, and adversities ever occurring in various realms of life are adroitly solvable by him at lenient and economical service charges.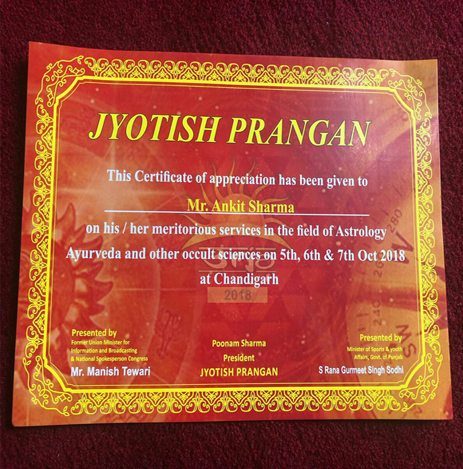 The following are the top five most impressive and globally-commended specialties of his astrology-based services:
Solutions are efficacious and work fast
Economical and easily affordable solution by all rich and poor
No likely side-effects
Only few highly elegant and cost-effective solution measures suggested
And, solutions conform his opulent erudition, experience, and worldwide reputation.
Though the superb and safe astrological services of our guru ji have been rather popular and famous in entire India and numerous countries across the globe, for tackling problems and plights relating to all various broad fields/domains of life, his solutions have been most popular and highly sought-after for solving/eliminating the following problematic or ruinous matters in India and abroad:
All types of internal/mutual/conjugal problems and plights ever existing in between two love partners in love life
All external disturbances and obstacles to a love relationship between two lovers, which could be familial, social, astrological, occupational, financial, etc.
All various possible types of problems and hindrances to all most popular types of marriages, such as arranged marriages, love marriages, and inter-caste/interreligious marriages, including the astrological afflictions.
Slackness, fluctuations, or insecurities in businesses and professions
Discrepancies and rifting discord between the husband and wife, including the unwanted extramarital affairs or divorce by any spouse
Abrasive and breaking relations with kith and kin, and other social or occupational people
Failures and struggles in careers
Diverse money and finance related issues, such as blockage, uncertain fluctuations, stringent situations, and so on.
Risks and uncertainties associated with new investments or ventures
Revival of lost love or reacquiring the parted love partner
Needy or suffering people from any problem in life, may readily and freely call over: +91-98154-18307; or forward their relevant queries or requests for service at: info@AstrologerAnkitSharma.com; for harnessing excellent and economical astrological solutions.