Query Form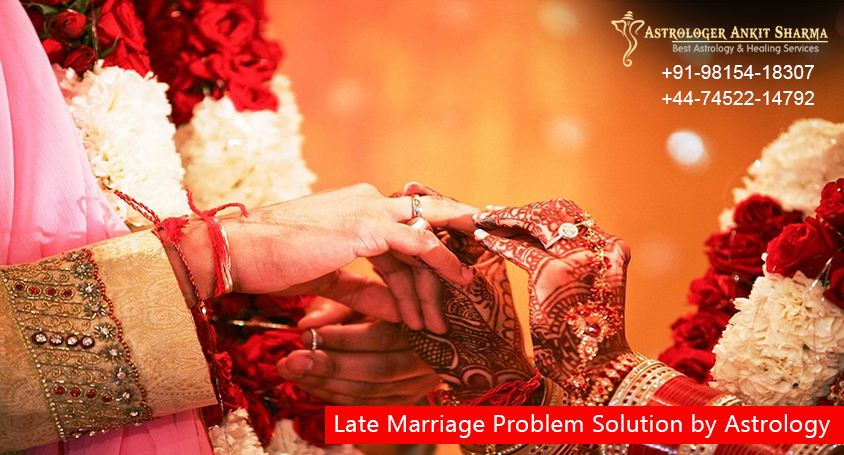 Astrology Case Study No. 38 - Late Marriage Problem Solution by Astrology (Gargi Tiwari)
Hello, myself Gargi Tiwari and I am in my late 30's. It was getting very difficult for me to get married. My parents were looking for a suitable life partner for me since 2017. Every time they find someone and fix my marriage with them, it used to remain unsolicited. After trying for a long time, we started feeling that I will not able to get married ever. This situation was very unpleasant for me and it pushed me towards depression. At this point in 2020, the covid-19 pandemic broke out and I felt like all my chances are gone. But Pandit Ankit Sharma Ji showed me that life is full of hope and happiness. My maternal uncle told my parents about him. He told that sometimes due to some dosha in one's horoscope it becomes tough to get married to that person. He assured us that Sharma Ji is a renowned and highly experienced astrologer in India. So, we thought of giving it a try.
We took Sharma Ji's appointment and visited his chamber. He checked my horoscope and found some issues in it that was causing issues in get married. But it was no more a major issue. He solved those and next what! I got married within 6 months later, in July 2021. It was a great surprise for me. My husband is a government employee posted in a great official rank. We are made for each other. Our married life is full of love and happiness.
Being frustrated because of delayed marriage needs some extra care. And it will be my suggestion to you who are facing delay in marriage should visit Pt. Ankit Sharma Ji to find the best astrology remedies for your horoscope issues. He has years of experience as an astrologer and his friendly attitude will make you comfortable while talking about your issues. And most of all, he deals with each of your problems with great positivity. He can do miracles in your life. Thank you, Pandit Ankit Sharma to help me find the love of my life.
Astrologer Ankit Sharma - Marriage Astrologer
Direct Call/ WhatsApp/ Viber(India]: +91-98154-18307
Direct Call/ WhatsApp/ Viber(UK]: +44-7452-214792
Email ID: info(at)AstrologerAnkitSharma(dot)(com)
Skype: Ankit.sharma3291